CD IN AID OF OUR WORK


Mauro Harsch has recorded a Cd, distributed in Europe, Australia and the United States.
All profits from it are devolved to our Foundation.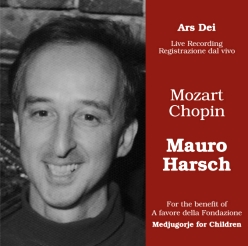 The new edition is now available!
W.A. Mozart (1756-1791)
F. Chopin (1810-1849)

Waltz in D flat major Op. 70 N. 3
Waltz in A flat major Op. 69 N. 1
Mozart interpreted with much sensibility, precise phrasing, clarity, gentleness and intensity.


Enrica Mantovani, Animato


---

Harsch presents four of Chopin's Waltzes and the Ballade in G minor op. 23, dedicated above all to bringing out the intense – albeit changeable in its moods - poetic vein of these works: Harsch has identified and brings forth the characteristics of each piece, with relish and sincere emotional impetus.

Fernando De Carli, Corriere del Ticino


---

Works performed with clear, polished, sure and brilliant technique, interpreted above all with great insight and style, hall-marked by convincing and positive personality.
Renato Grisoni, L'Informatore

---

The rendering of the sound is technically excellent, particularly for a live recording, and we are at the peak of pianistic artistry: not a lapse in concentration, not a single capricious distraction from the musical tension, and fingers of steel for layers of velvety colour. Centering everything on interior honesty, Mauro Harsch expresses the true joy of playing and of communicating. His interpretations are recommended to every lover of great music.


Giovanni Beretta, Giornale del Popolo


---
Ars Dei CD-100

Mauro Harsch plays Mozart and Chopin

Fr. 25.-- € 16.--



Orders:

Phone: 004191 683 99 02

Fax: 091 683 16 09